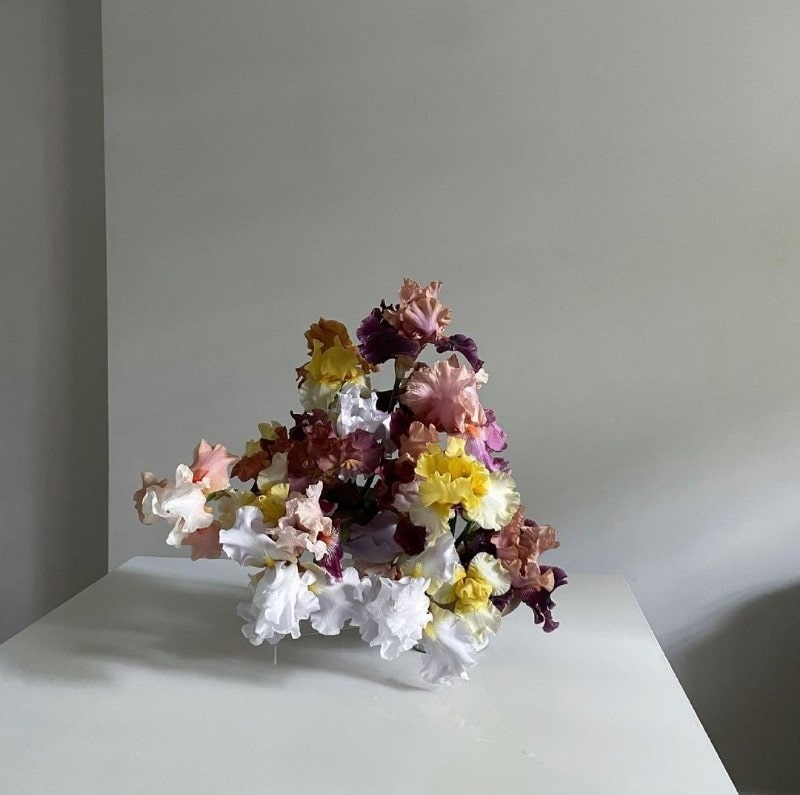 Bearded irises ©Simone Gooch
Sometimes a letter or an email we are sent proves to be especially intriguing and it was this email below sent earlier this year, that led us to consider a different aspect of iris growing….
We have a photo shoot and would like to include some special iris specimens. Is it possible that you might be able to advise on potential suppliers/growers who may be able to assist?
The shoot date is slightly flexible, we will work around the iris flowering period.
I am a florist based in London and am happy to travel to collect the flowers.
Thank you.
Best wishes,
Simone
The person Simone, is in actual fact a highly successful and original florist, who runs a business called Fjura. Fjura is the Maltese word for flower, a nod to her mother's heritage. And on one of the warmer days in the early summer, Simone visited Iris of Sissinghurst, with John Tebbs of the Garden Edit to buy some cut iris blooms. The season had not been kind and we had had to postpone the initial visit as the flowers were not moving and we had very little on display at the nursery.
Simone is interested in using unusual and original plant material and she had searched through the RHS Chelsea Flower Show listings of nurseries and found the British Iris Society and had got in touch. We were due to grow and set up the stand for the British Iris Society at the RHS Chelsea Flower Show in 2020.
A bouquet ©Simone Gooch
Simone agreed to be interviewed by us so that we could discover not only more about Fjura, but also about Simone's philosophy when it comes to flowers.
Simone was brought up in Sydney, Australia and began working at a florist to earn some money while she was at school. It was through this early introduction that Simone discovered her passion.
She told us that she has been influenced by Constance Spry and liked her approach and the way she considered flowers and used unconventional material in her arrangements. She mentioned that she had read 'How to do the flowers' among other books that Spry wrote. She likes some of the Japanese styles of flower arranging as well and certainly her emphasis on the flowers and foliage she uses in her own arrangements, are central to her style.

Tablescape of quince branches, cyclamen and slipper orchids for a Sotheby's dinner curated by Roksanda Ilincic © Simone Gooch
Being a visual person, Simone takes inspiration from her surroundings and that is very much the feel one gets when seeing her arrangements in place.
Of course the ingredients of any artist's creation are key and when Simone lived in Australia she would visit the Sydney Flower Market. She said 'The Sydney flower market is a hive of activity. You need to arrive for 5AM when it opens, as flowers are snapped up very quickly – a huge adrenaline rush very early in the morning! Many people that sell flowers at the Sydney Flower Market also grow the flowers they sell so you can discuss direct with the grower about availability. They are passionate about what they do and the flowers they grow and this energy and passion is a wonderful thing to be part of.'

Outside Sydney Flower Market 2013 ©Simone Gooch
She admits that with Australia's varied climate there is a greater variety of flowers to choose from throughout the year than in the UK. In spite of this, she was enticed to London which has given her the opportunity to explore her work further. This has allowed her to work not just in the UK, but in Europe as well. As well as buying at Covent Garden Flower Market, Simone has also been lucky to visit the romantic flower market in Paris to buy flowers for her creations.
Simone's emphasis is very much on the flowers as she says 'they excite her'. She enjoys the changing seasons, the challenge of sourcing flowers and consequently every day is different. Although it is challenging, it brings joy, not something everyone can say about their work.
From the book 'Rosa' ©Derek Henderson
Recently Simone was lured to New Zealand by some extra special flowers: large quantities of roses. She worked with Derek Henderson on a collaborative project to produce a book called 'Rosa'. Simone had first visited Matthews Nurseries Ltd, a multigenerational family rose farm in Whanganui known throughout the world for its unique rose breeding programme, in 2018. John Tebbs of Pleasure Garden magazine had commissioned her for a shoot. However, she returned of her own volition and as the publisher, Perimeter Books says……….
'The still life floral arrangements that populate florist Simone Gooch and photographer Derek Henderson's collaborative project Rosa both expound and subvert the loaded historical and aesthetic potentials of its central subject matter. ……working with the Matthews family to source, select and cut the plethora of unique rose varieties that appear in the book. The results are quiet yet spectacular, poetic yet expressive, with Henderson capturing Gooch's highly sculptural, unconventionally elegant floral signature with the kind of casual warmth and formalist precision that have come to define his photographic career. These works call to the classical and the contemporary in equal voice. Rosa – which includes an extensive interview with the Matthews family and a detailed flower index – makes a compelling new case for the time-honoured queen of flowers.'

From the book 'Rosa' ©Derek Henderson
The book is due out any day now.
Simone is a true advocate of using high quality flowers. She is conscious of the environment, and hopes by paying for the best blooms she is supporting more ethical growing practices. She buys to order so there is little waste and anything that is left over is gifted to people.
As featured in M Magazine ©Jacob Lillis
So with this in mind, we were particularly pleased to welcome Simone to the nursery. The flowers that she bought were all growing outside in the show beds, where we shy away from using chemicals. She loved the variety of colours that were on offer and says that 'bearded irises are an incredible flower and the quality grown by Iris of Sissinghurst is world class. It was a total joy to work with these flowers. They are mind blowingly beautiful'. The first lot of irises she bought from us were used in a shoot for M Magazine, the colour supplement for Le Monde newspaper in France, they included 'Subtilite' and 'Black Tie Affair'.
Magnolia Grandiflora ©Simone Gooch
Simone told me she has worked with water lilies and magnolia flowers, not always easy to source in the UK and you do need quite a few individual blooms to choose from to enable you to get enough for a bouquet. One flower that she would like to work with is hibiscus. She has never had the opportunity to use these exotic blooms due to their availability and fragility and their longevity is notoriously short. As well as hankering after some more bearded iris blooms, she would love to be able to source tree peonies, super unusual tulips, magnolia 'Atlas' and dogwood from flower growers. She naturally misses some of the Australian flowers such as flannel flower and Sturt's desert pea and she is always on the lookout for new and interesting flowers.

Rome 2021 ©Simone Gooch

Palazzo Nunez-Torlonia ©Simone Gooch
Recently Simone travelled to Rome in Italy and created some fantastic floral decorations in the magical setting of the beautiful Palazzo Nunez-Torlonia. She said this has been an especially wonderful venue to be able to decorate. She sourced her flowers from growers in Lazio, giving her blooms that enhanced the romance of the Palazzo.
Simone has a very impressive CV, having created floral installations for some amazing clients at very impressive venues. But certainly what came through to us was that Simone LOVES flowers. As the top chefs will use the very best ingredients for their dishes, so Simone will seek out the very best flowers for her arrangements and what is so clever and refreshing about her installations is that she allows the flowers to talk for themselves.
As a backdrop to furniture by Kusheda Mensah, a balance is struck between the rounded shapes that typify her work – oversized models with the semblance of organic forms – and the abstract nature of the floating flowers, mirrored in the setting by a freestanding floral arrangement by Simone Gooch of Fjura and all atop the waving patterned lines of a hand knotted rug by The Rug Company inspired by molten glass. ©de gournay
To find out more about Simone's work follow her on Instagram at https://instagram.com/fjura_?utm_medium=copy_link. Website is https://fjura.com/
Perimeter books   https://www.perimeterbooks.com/products/special-edition-pre-order-simone-gooch-derek-henderson-rosa